Checklist for travelling with your pet this Summer
What you need to know about travelling with your pet this summer
We all love going on holidays! Breaking from our regular routines, soaking in the sun, relaxing, spending time and building memories with family and friends – of course we love our holidays. But, some members of our families can find holidays particularly stressful – our pets!
Whether they are travelling with you or being left behind, holidays can be very stressful for our dogs and cats but there are some simple things we can do to make this holiday period easier for them.
To make travel with your beloved pet simple this Summer, we have compiled a guide to travelling safely with your pet both at home and abroad.
Quicklinks:
Check your destination!
Maybe you have already booked your holiday or maybe you're still in planning mode, either way your pet will definitely appreciate it if you spend some time checking out how suitable your destination is for them.
Pet-friendly destination checklist
1. Pet-friendly accommodation
Make sure your accommodation is pet friendly before you go, otherwise you might be risking being turned away at the last minute!
Ideally, pick a location that not only allows pets, but that also have pet-friendly amenities and services like dog parks, water bowls, grooming services and pet-minding. The number of destinations offering these types of services are growing all the time.
2. Pet-friendly restaurants, shops and attractions
It's nice to be able to get out and about on your holidays. Check your destination to see if there are restaurants, shops and other attractions that your pet friend will be welcome. This will help you to plan out a trip that's full of activities that include your pet, so everyone can make the most of it!
3. A local vet or animal hospital
Nothing can spoil a trip away quite like a pet getting sick or hurt, especially if you can't get them the help they need. Make sure to check that there is a local vet or animal hospital and make sure to have the address handy just in case your pet needs some urgent care while you are away.
4. Shade
It's something we can easily overlook, but our pets don't always like being in the sun all day, particularly in places that are already warmer than they are used to anyway.
If you are planning on sunning yourself on your holidays, it will be useful to know what spots have enough shade nearby to let you enjoy the sun while your pet can cool themselves when they need to.
5. Space for your dog to run around and play
As we all know, bored pets can be troublesome pets, and who can blame them! Make sure to find out where the nearest park or open space is to your accommodation. Giving them space to run around and play will help them to burn off any nervous energy they have and make the whole holiday a more enjoyable experience for them.
6. Dangerous Animals
This is definitely something to look up before you bring your pet away with you, because it's often not as simple as you might think! Make sure to find out beforehand what indigenous animals might be dangerous to your pet, because it might not just be scorpions and snakes that you need to watch out for.
In Spain for instance, the hairs of Processionary Pine Caterpillars can cause reactions in humans ranging from mild inflammation and irritation to severe anaphylactic shock and can pose extreme risk to our curious pets.
Travelling Abroad With Your Pet
1. Entry (certification) requirements
Make sure to find out exactly what your destination's entry requirements are for foreign pets or you will run the risk of being denied entry when you arrive. Some countries have restrictions on the number of animals you can bring with you, others require you to have the pet's original paperwork with you on arrival.
Just like the pet passport system in the UK, there are a wide range of restrictions and regulations around the world – so make sure you know what's what before you travel.
2. Transportation regulations
When travelling abroad, you should also make sure you know the regulations imposed by whatever means of transport you are using. For example, if you are travelling by plane you may need to bring your pet to the airport well in advance of the flight. You might also need to have veterinary records and test results to be allowed to bring your pet with you.
Don't be caught out, make sure you have spoken to your airline or whatever other transport company you may be using before you travel.
What To Bring With You When Travelling With Your Pet
The next step when planning to bring your pet on holidays is making sure you have everything you need when you get there!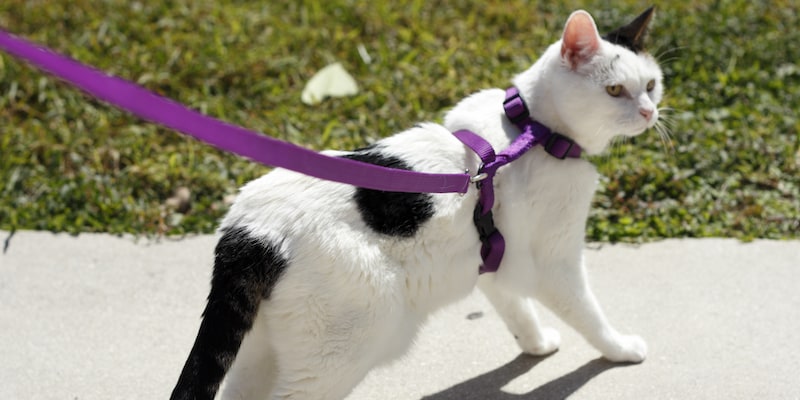 1. Leads, plural!
Make sure to bring 2 leads with you when you go away in case 1 goes missing (or gets chewed up!). Bringing a long lead and a short lead will let you give your pet freedom to explore but also let you keep them close and under control when you need to.
2. Poo bags
Your pet is going to poo while you're on holiday. And nobody wants to be the person that spoils the fun for everyone by not cleaning up after their pet (their might also be fines involved if you don't!). So make sure to bring lots of poo bags with you so you're never left stuck.
3. Pet collar and tags
A pet going missing on holiday can be a nightmare, so it's best to be prepared. Make sure your pet has a good collar and name tag that also has your contact details on it (make sure to include the country code on your phone number!). Before you go, get an extra name tag that has the address and contact information of your holiday accommodation so people in the area know where to return them if they do get lost.
4. Pet bed
Make sure to bring a bed for your pet while you're away. Some pets prefer to sleep on the floor, but don't count on it when you're on holiday. Travelling can be stressful on any pet and having their own bed gives them somewhere to go that's theirs. It will help them to familiarise themselves with the new place, feels more like home and gives them somewhere to go to when they want to rest or just be out of the way.
5. Food and food bowl
Although it might be easier to buy food once you get their, bringing your own pet food will ensure you can get the food your pet is used to. There's no fun in having your pet away with you if they spend the whole time with an upset tummy because they have to adjust to a new type of food.
And make sure to bring a food bowl with you, it will make meal times for your pet so much easier.
6. Water and travelling water bowl
When you're out and about on holidays with your pet, make sure to have some bottled water with you. And bringing a travelling water bowl will make it much easier for you to take them on car journeys and long walks
7. Treats
Travelling can be stressful for everyone involved. Make sure to bring treats that your pet likes to make it less stressful for them, and make it easy for you to get their attention quickly!
8. Toys
As I've mentioned already, a bored pet can be a troublesome pet! Make sure to bring some toys for your pet to keep them entertained. Kong provide toys for both cats and dogs that can keep them entertained for longer periods than most and if your dog plays fetch, make sure to bring a ball to help tire them out.
9. Towels
Dogs in particular can get wet and dirty with all of their exploration so make sure to bring a couple of towels to dry them and clean their dirty paws. Your cat will most likely be very unimpressed if they're caught out in a rain shower with you, so make sure to have towels handy whether you are bringing your cat or your dog away.
10. Stain remover
Accidents happen, whether you are at home or you're away. Bringing stain remover with you will help you keep your car or your accommodation free from stains if your pet does make a mess.
11. Medicine
If your pet is on any kind of medication, make sure to get enough to last for the entire time you are going to be away. You don't want to find yourself scrambling to get their medicine while you are on your holidays, and you might find that they don't have the same type of medication you need where you are staying.
12. Hair brush and roller
Bringing a hair brush and roller with you will help you to minimise the amount of pet-induced mess you'll be facing on your holiday. The roller will help you to remove the pet hair that will inevitably end up on everything when you are spending time together in close quarters and the hair brush will help you to stop their fur becoming matted on rainy days.
13. An old sheet
This is a big one, particularly if you have a dog and are going to be travelling around a lot in the car. Having an old sheet to hand will get you out of many potentially messy situations, simply throw the sheet over the back seat or the boot and voila – instant mess stopper! The sheet can even be handy in sunny locations as it can be used to create a shaded area for your pet by simply propping it up on something.
14. Backpack
Carrying around so many things for your pet can be a hassle and things can get lost quite quickly unless you can keep them together. Bring a backpack with you specifically for your pet's things so you know where they are at all times and can carry them around easily.
15. Pet insurance
Having pet insurance in place before you go away can give you great peace of mind. For short holidays, pet insurance is very affordable and can help make sure you don't face costly bills if something unfortunate happens such as an accident or property damage.
16. Stress reducer – Serene-UM
Nobody wants their pets to be stressed, and if you're the kind of person who brings their pet away with them (like me!), you probably want them to enjoy it as much as you do! Serene-UM is a natural stress-reducer that has been recommended by veterinarians to help combat tension and stress in pets. It doesn't have a sedative effect so bringing it away with you can help ensure your pet enjoys the holiday, stress-free!
17. A coat
For those of you planning to enjoy a holiday somewhere colder place, such as a skiing holiday, make sure to bring a coat for your pet to help them to keep warm!
Can you think of other things you should bring with you on a pet-holiday that should be on this list? Let us know by messaging us on Facebook!

Are you travelling with an anxious pet this Summer? Try Serene-UM, recommended by veterinarians to help combat tensions and stress in cats and dogs.  Available in calming drops, calming tablets, or Xtra calming tablets. 
Download the complete checklist
We have created a handy PDF of this checklist to make it can be easily downloadable. Why not download the complete checklist so you can print it off and use it to get ready?! You will be glad you did!
Simply click here or on the image of the checklist above to download it. It's free!
Win a bottle of Serene-UM Calming Solution for your pet!