Mark + Chappell Team Up With Yellow Dog™
Today, we're proud to announce our new partnership with Yellow Dog UK™, a trusted and established UK dog charity. We believe in the message of their initiative – Some Dogs Need Space – and that safer, more enjoyable walks lead to an improved quality of life for dogs all over the world.
Mark + Chappell believes in creating innovative solutions for dogs, and our dedicated professionals and experts are consistently trying to find ways to make the life of dogs healthier, happier, safer, and more rewarding. We believe that this partnership will prove to be a perfect fit, and couldn't be more excited.
What Is Yellow Dog UK™?
Yellow Dog UK™ is a UK-based charity that understands that dogs often need space while training, recovering from surgeries, during rehabilitation or for a number of other reasons. The Yellow Dog Campaign is about understanding that some dogs need space, and the reasons behind it.
For dogs and dog lovers, there is a natural urge to greet every dog, but there are some dogs that are just not suited to constant interaction with other dogs and the Yellow Dog Campaign offers a clear way to communicate this to other dog owners so that they understand the situation.
There are all sorts of reasons why a dog might need space. Dogs, like humans, have very different personalities. Some dogs are simply more outgoing than others. Some might have health issues, while other dogs may be in training, or might naturally be nervous or shy. Of course, rescue dogs may also need extra space when it comes to adjusting to a new environment.
The Yellow Dog Campaign aims to raise awareness of this by urging dog owners to use a yellow ribbon to indicate when a dog might need its space, whatever the reason. Some dog owners also choose to use a yellow bandana to relay the same message.
Yellow Dog UK™ believes in responsible dog ownership and doing everything possible to make sure that dogs are safe and comfortable. The charity also boasts a sizeable following on various social media platforms as well to help raise awareness of its message.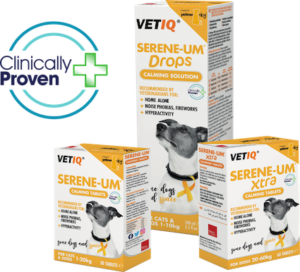 About The Partnership
Mark + Chappell is going yellow and is proud to announce that a donation will be made to Yellow Dog UK™ every time a customer purchases a special promotional Serene-UM pack.
A donation will be made to Yellow Dog UK every time a customer purchases a special promotional pack of Serene-UM.
Serene-UM is a natural dietary supplement that helps ease tension and stress in pets and aim to promote their wellbeing. Serene-UM not only help address anxiety issues in pets but can also promote concentration, as well.
There are many situations in which VETIQ Serene-UM can prove useful. Mark + Chappell is proud to offer products that contain the right combination of amino acids, vitamins, and minerals to help in all sorts of situations. Our Serene-UM is great for pets that might be hyperactive or reacting negatively to thunderstorms and/or fireworks.
Aligned Goals
We believe that our partnership with the Yellow Dog UK™ is a combined move that will help increase awareness of their message and of the positive benefits that Serene-UM has on our pets' quality of life. And of course, the partnership will also raise money for this good cause and help spread the message to dog owners across the UK and Ireland.
We believe that the Yellow Dog Campaign also understands the importance of a pet's physical and mental health as clearly as we do and we are proud to have taken concrete steps to support the campaign further with every Serene-UM pack sold.
Sign up and win!
Be in with a chance to win a one in 10 prize for your pet by signing up to the Health for Pets Community!
Please note, we do not spam. By signing up to our community you will receive our monthly emails with free resources and latest updates. For more information, see our
privacy policy
.