These delicious Odour Care bites have been developed with lots of care & attention by our animal nutritionists to promote your pet's well-being. Comprising of a crispy cereal shell with a cream-filled centre containing ingredients to help control cage & hutch odours.
Helps control cage & hutch odours
Contains essential Omega 3 & 6 fatty acids
Added vitamins to support your small pet's health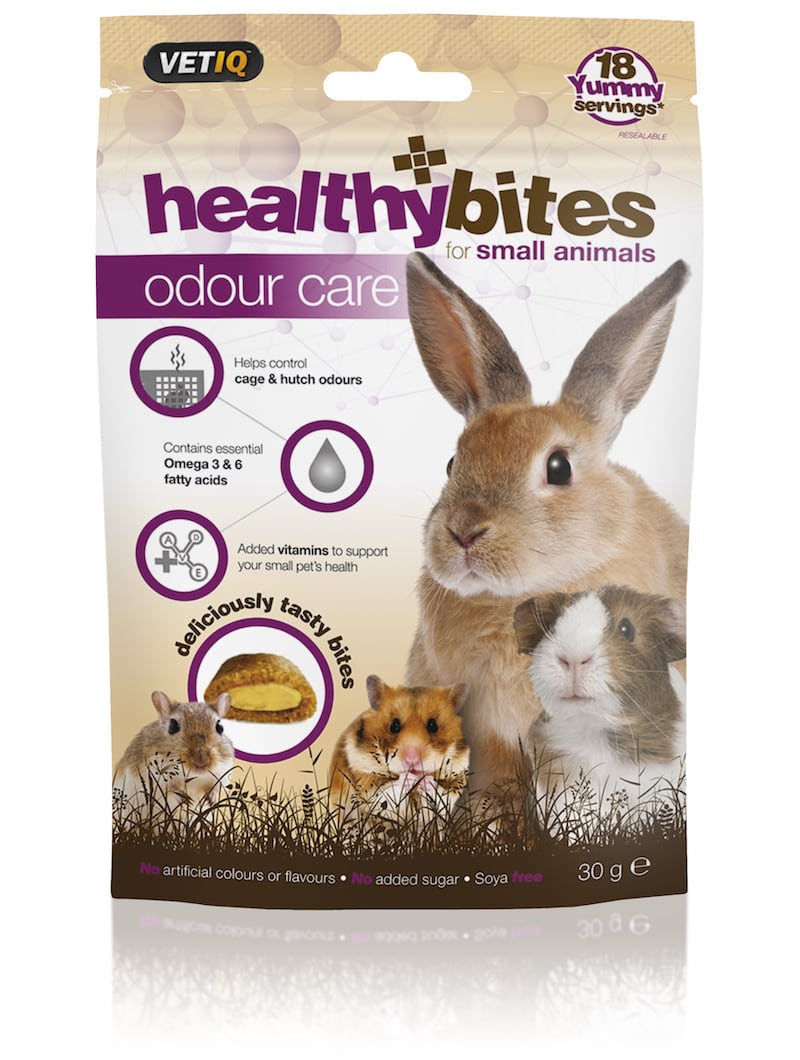 Composition: Cereals, Oils and Fats (1.5% Omega 3, 3.7% Omega 6), Derivatives of Vegetable Origin (Yucca Schidigera 0.25%), Minerals.
Additives (per kg): Technological Additive: Natural Antioxidant. Nutritional Additives: Vitamin E (RRR alpha tocopherol) 112mg, Vitamin A 2000IU, Vitamin D3 300IU. Sensory Additives: Natural Flavouring, Rosemary Extract.
Analytical Constituents: Crude Protein 13.5%, Crude Fat 27.4%, Crude Ash 1.8%, Crude Fibre 2.0%, Moisture 9.0%.
Ingredients: Wheat Flour, Canola Oil, Corn Starch, Wheat Gluten, Brewer's Yeast, Salt, Yucca Schidigera, Glycerine, Natural Flavouring, Ascorbyl Palmitate, Rosemary Extract Oil, Vitamin E (RRR alpha tocopherol), Vitamin A, Vitamin D3.
Guaranteed Analysis: Crude Protein (min) 11.0%, Crude Fat (min) 24.4%, Crude Fibre (max) 3.7%, Moisture (max) 10.1%, Ash (max) 2.8%.
Storage:
Store in cool, dry place away from direct sunlight & reseal after use. Once opened use within 4 weeks. For Best before / Batch number, see below.
Directions for Daily Use
Hamsters & Mice: 1 bite per day
Pet Rats: 1-2 bites per day
Guinea Pigs and Gerbils: 2 bites per day
Rabbits: 2-4 bites per day
Please wait until your pet is weaned (10 weeks old) before feeding treats to small animals.
Healthy Bites Odour Care For Small Animals
Average rating:
1 reviews
Nov 16, 2018
Bad product!
These are not healthy treats. It's disgusting that they contain skim milk powder and a perversion of nature to feed them to strict herbivores like guinea pigs. They can't digest them. Find better animal nutritionists for your food.
Dear CeePlease be assured there is no milk or meat in our small animal treats. You must have received a pack produced a long time? There has been no meat or milk in this treat since 2015.We at Mark and Chappell are very aware of the nutritional needs of small animals and would never add anything to small animal products that would jeopardise their health.